Archive for June, 2011
Zip Lining: Nantahala Gorge Canopy Tours
No Passport Required
Thursday, June 30th, 2011
No need to travel to the tropics to fly through a rain forest. The first Canopy Tour in the North Carolina Smokies is now as close as the Nantahala Gorge. The three-hour "glide and slide" experience that simulates flying is fueled by gravity and a gradual elevation change. More than just a zip-line ride (as if that weren't enough), it takes you through multiple ecosystems, over hemlocks and into hardwood treetops. The route takes you above the forest floor which is blanketed with mountain laurel, dogwood, fern, rhododendron, flame azalea, wild magnolia and many other native plants. Reservations are through Nanatahala Gorge Canopy Tours.
Complete your "tropical travel" day when you return to Lakeside Cottage at the Point. with a healthy and delicious dinner featuring Tropical Grilled Sea Bass. (Fresh seafood and produce is available daily from the Produce Stand at the crossroads in Cashiers.
Recipe: Tropical Grilled Sea Bass Serves: 6
Ingredients:
1 cup 1/4-inch pieces peeled, cored pineapple
3/4 cup 1/4-inch pieces peeled, pitted mango
2/3 cup 1/4-inch pieces red bell pepper
1/2 cup 1/4-inch pieces seeded tomato
1/3 cup 1/4-inch pieces seeded English hothouse cucumber
1/3 cup 1/4-inch pieces red onion
3 tablespoons minced fresh cilantro
2 tablespoons minced fresh mint
2 tablespoons minced seeded jalapeño chili
2 tablespoons fresh lime juice
6 6-ounce sea bass fillets
Olive oil
Preparation:
Combine first 10 ingredients in medium bowl; toss to blend. Season salsa with salt. Chill to blend flavors at least 1 hour and up to 4 hours, tossing occasionally.
Prepare barbecue (medium-high heat). Brush fish with oil; sprinkle with salt and pepper. Grill until just opaque in center, about 5 minutes per side. Transfer to plates. Top with salsa and serve.
Classical Music Festival
The Hills Come Alive with the Sound of Music
Thursday, June 23rd, 2011
The Brevard Music Center celebrates its 75th music festival season this year with 18 orchestra programs, 5 opera productions and dozens of chamber music and solo recitals in a casual, accessible setting. The long list of globally recognized musical guests range from cellist to Yo-Yo Ma to Swiss conductor Matthias Bamert to renowned American Songbook singer Michael Feinstein.
This year's six-week festival schedule (June 4 – August 7), is perhaps the Center's most ambitious yet, including Mahler's Symphony No. 3, requiring a woman's chorus, children's chorus and a vast array of wind, percussion and brass instruments all under the direction of Keith Lockhart who is also conductor of the Boston Pops and back for his fourth season as artistic director of the BMC.
Among the season's favorite returning programs is the Patriotic Pops concert July 3, and for a fundraiser on August 1, the schedule reaches into American popular song with celebrated singer Michael Feinstein performing "The Sinatra Project".
Performances are held on the campus of Brevard College in a venue that combines concert hall acoustics with alfresco features such as lawn seating. It's very informal, very casual. Nobody dresses up except for the musicians as you listen to music in fresh mountain air and under the stars. www.brevardmusic.org. 888-384-8682.
The drive to Brevard from Lakeside Cottage winds east along Route 64 past waterfalls, golf courses and Lake Toxaway. Plan to stop along the way fora pre-concert dinner at one of our favorite restaurants, the Brown Trout Mountain Grille, situated in an old train depot. Call ahead for reservations. 828-877-3474.
Faces & Places of Cashiers Valley
Tim Barnwell Photo Exhibition
Monday, June 20th, 2011
The Cashiers Historical Society presents an exhibit featuring the work of renowned photographer Tim Barnwell a the Zachary-Tolbert House from 1 – 3 pm on Saturday, June 25th.
Tim Barnwell is a commercial and fine art photographer based in Asheville, North Carolina. His career has spanned over 25 years as both a professional photographer and a photography instructor, including eight years as executive director of the nationally recognized school, Appalachian Photographic Workshops (1980-1988).
His images have been widely published, appearing in dozens of magazines including Time, Newsweek, Southern Accents, House Beautiful, American Craft, Outdoor Photographer, Sky and Telescope, US Air, Blue Ridge Country, U.S. News and World Report, Billboard, Travel South, American Style, Black & White Magazine, LensWork and National Parks.
The Zachary-Tolbert House is located on Highway 107, 2 miles south of the Cashiers Crossroads (intersection of Highway 107 and 64), just a short drive from Lakeside Cottage at the Point.
Late Cancellation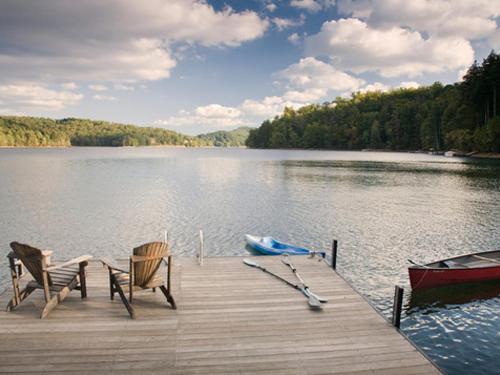 Late Cancellation = FREEdom Sale at Lakeside Cabin
Monday, June 20th, 2011
Lakeside Cottage at the Point
An (Almost) Last Minute Cancellation = FREEdom Sale
Rent our North Carolina Lakeside Cabin for 7 nights and get the 7th night FREE!!!
4 bedrooms/4 baths; sleeps 8 comfortably; fully furnished and equipped; private boat dock; kayaks; canoe; grill.
A late cancellation for the week of June 25 – July 2 has opened up that week for a new rental at our North Carolina mountain lake vacation home. If you are looking for a week away and are free to travel, take advantage of our last-night-free offer to make forever family memories.
Call Helen or David today to reserve your vacation. 904-321-2210 or email helen@nclakecottage.com.
Biking One of North Carolinas Best Bike Trails
Thursday, June 16th, 2011
Ever wonder why some bicycles are made with as many as 27 gears? The answer can be summed up in two words – North Carolina.
With a huge variety of terrain, no matter what kind of cyclist you are, the state is a cyclist's dream. A recently published ranking of the 10 best bike trails – from flat, serene and easy 10th gear to steep , perilous and possibly heart attack inducing 1st gear highlights, in 3rd gear, the Cashiers Tour.
This route is relatively short (10 miles), but packs a major thigh burning and visual wallop. To begin with, Cashiers happens to be perched atop a plateau which is encircled by the Nantahala National Forest, providing the area with awe-inspiring vistas at virtually every turn.
Judi Lawson Wallace, author of Short Bike Rides in North Carolina, describes the sights in the area this way: "Cashiers' location on the Eastern Continental Divide at 3,487 feet, combined with the number of rivers flowing through the area, gives it many natural wonders at which to marvel…It has tall mountain peaks, deep valleys, many waterfalls, lush forests and mountain plants and a serene setting."
Start your ride at Cashiers Commons on US 64, turn right when you get to NC 107 and get ready for heart-pounding climbs, hairpin turns and one of the most inspiring rides you will find anywhere. (Complete directions are found in Wallace's book).
After completing your ride, relax with a cool beverage overlooking Lake Glenville at our vacation rental Lakeside Cottage at the Point.