Archive for August, 2011
Main Street
Mountain Style, O. P. Taylor's "The Coolest Toy Store on the Planet", Brevard, NC
Tuesday, August 30th, 2011
Brevard is, in many ways, the quintessential Southern mountain town, its retail district populated with old-time soda shops, bicycles parked on sidewalks and colorful barrels of seasonal flowers at shop entrances. And like many small, southern towns, Brevard has a few oddities too including a large population of white squirrels and in a 110-year-old building that hasn't changed on the outside since 1940, is the coolest toy store on the planet – O. P. Taylor's. The 6,000 square-foot interior is a maze of color and activity overseen by The Toy Man (owner John Taylor) wearing a rainbow beanie and sporting a salt-and-pepper beard. Almost nothing in the shop runs on batteries. Contents range from the familiar – pink rain boots with lime-green butterflies, bright yellow magnifying glass, a long, plush sneaky snake and those that feed hobbyist fancies – model trains, slot cars, erector sets, to the slightly eccentric, such as ventriloquism gear. O. P. Taylor's, 2 South Broad Street, hours Mon. – Sat.: 10 – 6; Sun.: 1 – 5. Brevard is a scenic drive from Lakeside Cottage.
Main Streets Mountain Style, Bryson City
There's no better time to explore the hamlets and villages tucked among North Carolina's Smoky Mountains than in the Fall when the mornings are crisp, leaves are brightly colored and festivals and fairs celebrate the harvest. The next several blog posts will feature some of my favorite towns and villages that surround Lakeside Cottage and Lake Glenville.
A stop in Bryson City is a great way to begin. Train buffs should stop a the model railroading museum, Smoky Mountain Trains. More than 7,000 Lionel locomotives and cars, some dating back as far as 1918, are on display. There's more than a mile of track where six trains run simultaneously post a five-foot waterfall and animated scenes.
A short walk to the Bryson City depot is where you will find the Great Smoky Mountain Railroad, a full sized train that offers daily excursions through some of the most scenic country of Western North Carolina. The 10th annual RailFest will be held September 16 – 18th. The weekend event offers guests a taste of railroad food, memorabilia, storytelling, music and special train excursions and events that happen only once a year.
Frank Stella American Master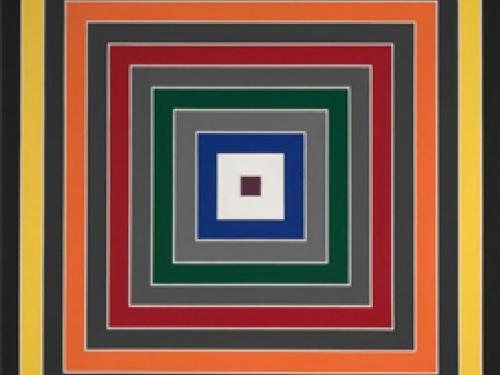 Works of one of the world's most influential artists is on display at The Bascom, July 8 – September 25, 2011. It includes works on loan from private collectors, the Albright-Knox Museum, New York; Museum of Contemporary Art, Florida; and Jacksonville University, Florida. Works on display include monumental printmaking, mixed media and sculptural pieces from the artist who dominated modern and contemporary art for five decades.
The Bascom is a nonprofit visual arts center occupying a six-acres, $13,000,000 campus in the mountain resort community of Highlands, North Carolina. Highlands is a short drive along Bright Mountain Road from Lakeside Cottage. Combine a visit to The Bascom and al fresco lunch at Madison's on Main Street in Highlands for a perfect punch of mountain culture.
For more information, contact The Bascom at 828.526.4949 or visit www.thebascom.org.
Tiffany Lamps Articles of Utility, Objects of Art
Saturday, August 20th, 2011
Forty-five delicate stained-glass lamps, featuring dragonflies, moths, flowers and other scenes of nature are on display from the Neustadt Collection of Tiffany Glass at Biltmore House in Asheville, a short drive from
Lakeside Cottage
. Guests viewing the lamps can stroll the estate grounds planted with Tiffany-inspired landscapes and flower arrangements.
Cashiers North Carolina Designer Showhouse
Tuesday, August 16th, 2011
Pick a sunny weekday for an outing to visit the 2011 Cashiers Designer Showhouse followed by an al fresco lunch at my favorite Cashier's lunch spot, Cornucopia. (Try the Spinach Salad with honey pecans and plan to take half home for tomorrow's lunch.)
The 14th annual Cashiers Designer Showhouse is open August 20th – September 4th, 2011. Proceeds from this event benefit the Cashiers Historical Society. For more information on lectures, events and times visit Cashiers Showhouse.
Cornucopia is open 7 days a week and is located on Highway 107, a mile south of the crossroads in Cashiers, about a 15 – 20 minute drive from Lakeside Cottage.
Take a YouTube preview tour of this year's showhouse at Cashiers Designer Showhouse.
Table Rock A Natural Wonderland Fit for the Family
An idyllic destination for day-tripping families in search of a place to jump from a high dive, enjoy a bluegrass jam, sun on the beach, fish in a mountain pond or explore historic structures is Table Rock and Table Rock Park. Located less than an hour's drive from Lakeside Cottage where scenic Highway 11 meanders parallel to the Blue Ridge Mountain range and South Carolina nudges up against Western North Carolina. The preserve has ten miles of trails for hikers, a small nature center with snake skin displays, an old-fashioned swimming hole complete with floating swim-platform and high and low dives, sandy beach, motor boats, canoes, kayaks and paddle boats for rent as well as fishing for bass, bream and catfish. (Anglers should bring a SC fishing license. Rental rods and reels are available at the park's welcome center.)
History buffs can explore recently restored han-hewn chestnut log structures build by Civilian Conservation Corps (CCC) workers. During the restoration, project volunteers discovered dozens of locally quarried blue granite steps cut and land-laid by CCC workers in a serpentine pattern from the old lodge building (1930′s) through the woods and along the lake to the boathouse.
Park is open daily 7 am – 9 pm. Children are free, $2 admission for adults, additional fee to swim. Lakes are closed to swimmers on Mondays.
Shoot the Chattooga A N.C Mountains White-water Thrill?
Tuesday, August 9th, 2011
The Chattooga, a nationally designated Wild and Scenic River, has its origins at the base of Whiteside Mountain in Jackson County, NC giving rise to the argument that the Chattooga is really a North Carolina river. The first white water doesn't appear until the Chatttooga begins to mark the border between Georgia and South Carolina. It is here that the tumultuous river quickly becomes a class III-IV white water paradise flanked by the Chattahoochee National Forest and Sumter National Forest – one of the most picturesque white-water experiences in the Eastern United States. Free of roads, train tracks and buildings, the pristine setting inspired Hollywood to film scenes from Deliverance on the river. The primitive setting is so treasured that the U.S. Forest Service limits the number of rafting companies allowed to operate trips on the river and spaces rafting trips apart so that you are guaranteed not to see another group while on the water. A rafting trip on the Chattooga isn't your grandmother's idea of a leisurely cruise in a rubber raft while enjoying the scenery. This is a participatory adventure, following orders from a guide to helping paddle into the right channels and plunge down waterfall drops of fourteen feet.
Two USFS approved outfitters are Wildwater Ltd. (http://www.wildwaterrafting.com) and Nantahala Outdoor Center (http://www.noc.com). From Lakeside Cottage outfitters are located outside of Clayton, GA. Total distance is approximately 45 miles, a 70 – 90 minute drive.
Asheville Food & Wine Festival 2011 Grand Tasting
Thursday, August 4th, 2011
Cheers! Sante! Chin-Chin! Skal! No matter how you say it, you're in for a good time at the Asheville Wine and Food Festival Grand Tasting to be held on Saturday, August 13th at the Western North Carolina Agricultural Center in Asheville. The Grand Tasting promises to be a celebration of the largest gathering of wines and local delicacies that Asheville has ever seen under one roof. This year, more than 100 wineries, distributors, food vendors and restaurants will participate. The second annual Western North Carolina Chefs Challenge Finale will take place at the festival along with live entertainment and food and wine workshops. Asheville is a short drive from the
Lakeside Cottage.
Retreat From the Heat to NC Mountains Lake Glenville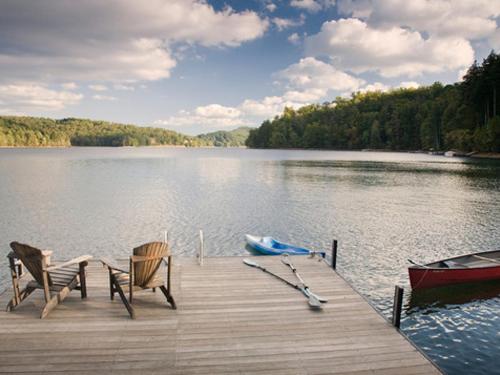 Monday, August 1st, 2011
Beat the August heat! Believe it our not, there is a place you can cool off during the long, "dog days" of August. A place where the average low temperature is 56° and 76° is the average high. Humidity there rarely exceeds 63% during the long and sunny days.
Check out our hottest deal of the season and cool off this summer at our North Carolina mountain cabin on Lake Glenville.
Escape the heat with our special rate, just $435 per night.* Book your mountain lake escape now. Call or email 904-321-2210 / info@nclakecottage.com.
*Valid for stays August 21 – August 31, 2011. Three-night minimum stay. Offer subject to availability.